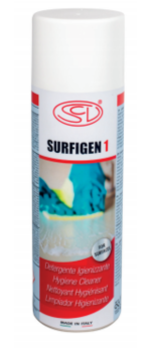 Siliconi Commerciale Spa has developed Surfigen 1, a new hygienizer spray, an innovative and highly effective formulation product that places the company among the main manufacturers and suppliers of hygienizers spray.
Surfigen 1 joins the other two foaming sanitizing sprays: Airnet and Pulisuper.
Airnet is a hygienizer for air conditioners, which can be used for cleaning the surfaces of shoes and helmets. Pulisuper is highly effective foaming cleaner, as it eliminates dirt, halos, grease, grease and sanitizes the treated surfaces.
Together with these two products Surfigen 1 with its hydroalcoholic base, acts through an active foam. Its formulation is innovative because it contains ammonium salts.
Surfigen 1 is able to effectively clean dirt, grease eliminating bad smells. This spray can hygienize tables, laptops and TV screens, it cleans material such as leather and can be used both at home and in the office.
All foaming hygienizing agents of Siliconi Commerciale Spa are 100% Made in Italy.