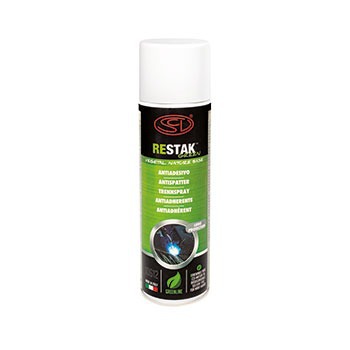 Siliconi Commerciale's green line products were born in 2019, but they are only the tip of the iceberg of a completely new production concept, based on improving product performance, with full respect for people and the environment.
We believe that it is everyone's duty to do something for the planet and for our future, starting now, including through daily actions. Our greatest commitment is to produce high-performance products that are sustainable and safe and we do this through our Research and Development laboratories. For the metalworking sector we formulated Restak®, an antispatters spray with natural origins characterized by high resistance and long lasting, focused on protecting the environment and the welders who use it.
Restak®: antispatter with natural and renewable base.
Restak® is a unique anti-adhesive for welding: it is completely solvents, chlorinated substances and silicones free; its base on oils and releasing agents comes from natural and renewable sources. Since it does not contain silicones, it can be used as antispatter for welding on all metals that need to be galvanized, chromed and painted. Another peculiar characteristic of Restak® is its long life, not comparable to the classic antispatters on the market. Its resistance and durability make it the ideal product for use on the surface to be welded and on the torch: with Restak® it is possible to carry out welding work for several hours without frequent applications on the gun. Of course, this reduces production downtime.
Thanks to its formula, Restak® allows you to weld naturally, continuously and contributes to a healthier working environment as it is solvents free.
Restak® is "Patent Pending"