Ceramstak is a ceramic based anti-adhesive specially formulated by Siliconi Spa for welding torches, in particular for MIG / MAG torches, laser and plasma cutting, automatic welding systems.
Ceramstak also acts as a lubricant for high temperature surfaces.
Ceramstak's features
The properties of this ceramic based anti-adhesive are numerous: it resists for many working hours, preserving the torches from spatters' adhesion and reducing cleaning times. It is a quick-drying and practical product to use.
This type of can reduces waste and is cheaper, in fact it has 25% more product than the common 400 ml size cans.
Ceramstak is also an excellent electrical insulator.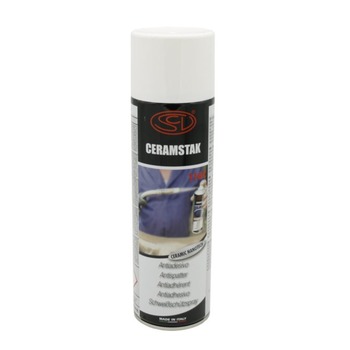 Ceramstak's action
Let's see more indetail how this product works.
Ceramstak is an excellent release agent, it prevents the adhesion of welding spatters on the torches, and it resists to very high temperatures. This let remain torches cleaner during working shift.
Ceramstak is also suitable to protect laser and plasma cutting grids.