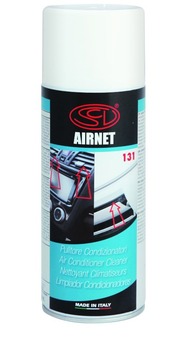 Siliconi Commerciale Spa is a manufacturer of technical aerosols for the industry, with a wide range of lubricats sprays, releasing agents, detergents, waterproofing agents, adhesives, silicone spray, galvanizers, protectives and anti-rust. All our sprays are formulated in our laboratories that work constantly at the research of renewable and high quality raw materials.
Herewith we discover Airnet: detergent, cleaner and sanitizer specific for cars, domestic and industrial air conditioners.
Airnet is a multipurpose spray that can be used for cleaning shoes and helmets, and also used for cars, domestic and office cleaning.
Airnet is a product that acts through an hydroalcoholic based active foam, , with a pleasant fragrance. Thanks to its cleansing action it eliminates bad odors deriving from mold and bacteria.