Silair C 400 100% anti-foaming agent based on organically modified PDMS, is extremely compatible and easy to incorporate into a wide range of protective coating systems even with its high concentration.
This allows a diversified and simple possibility of use in all those systems sensitive to the presence of silicone-based antifoams, at the same time, require an effective de-foaming action to avoid problems both during production and application and above all to obtain a dry appearance of the film, free from foam defects and leveling problems, and also VOC systems = 0.
Silair C 400, thanks to its excellent defoaming efficacy together with a high compatibility, allows its use in systems based on Acrylic and Styrene-Acrylic binders in low-medium PVC and low-medium viscosity formulations, therefore in enamels, in transparent acrylic systems and adhesives; so, in all those systems in which an adequate efficiency is accompanied by the need to incorporate the anti-foam into the system without being able to use high cutting forces.
Without Silair C400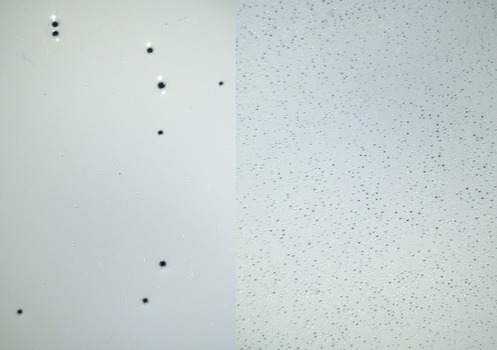 With Silair C400